Shipping & Refund Policy
COVID-19 PANDEMIC. The International Postal system is not functioning as it usually does, this is of course due to the Covid-19 pandemic. Packages can take up to 9 weeks to arrive at their destination. We thank you for your patience during this difficult time.
Minimum Purchase - $5.82 (3 x Case Badges).
For everything else...
Tracking parcels from New Zealand is extremely uneconomical. For example, tracking a $10USD Install DVD costs over $30USD therefore we cannot offer Tracking from this Shop. We can at your request, provide proof that your parcel has been sent via the receipt that the Post Office gives us. More often than not, if a parcel does not arrive at it's destination, it's because the address supplied is wrong by one or more numbers or characters. It is your responsibility to ensure that you provide a 100% accurate shipping address at the Checkout. Always double check your address.
Example: Tracking cost for sending one $10 DVD to the USA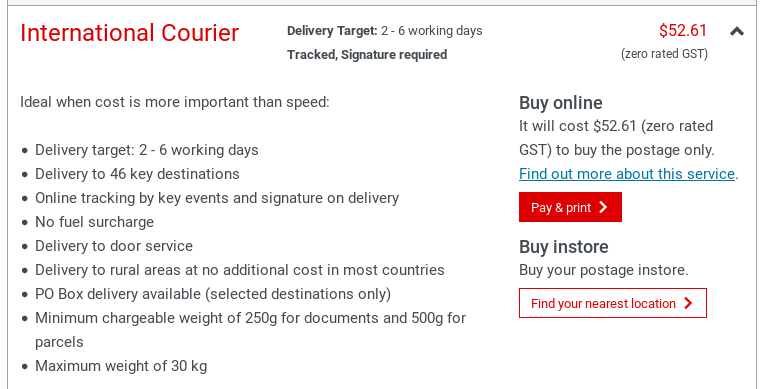 Shipping
All parcels are shipped the same or next day of receiving your order. Shipping charges are calculated by the weight and dimensions of each parcel.
Refunds
We would love to offer every one of our customers, a tracking service. That way if your parcel was lost, it could easily be tracked and redirected to your address. Unfortunately, the tracking costs from New Zealand to overseas addresses is extremely uneconomical (see above). We cannot afford to issue refunds should your parcel get lost, and we do not accept responsibility for failures in the International postal system. It is therefore absolutely imperative that your check and double check your address before checking out of the payment process. In our experience, this will prevent 90% of misdirected/lost mail.
We are at the mercy of the competence of the international postal system of which at any point, could fail on your parcel. It is therefore unfair and illogical to blame Linux Lite for your lost parcel and then expect us to issue you with a refund when it is the postal system that has let you down, not us. As soon as your parcel leaves our hands at the local post office, it is at the mercy of the international postal system. Always double check that your address details are 100% accurate before checking out of the Shop.