Welcome to Linux Lite - simple, fast, free.
Thank you for choosing the Linux Lite Operating System.
Version: 4.8 | Date published: 14th January, 2020
What's New: Updated existing information.
Authors: Jerry Bezencon, Ralphy, Bill Hahnen, Ralphy, Milos Pavlovic, Adam Grubbs, John Jenkins
Current Release Name: Linux Lite 4.8
Architecture: 64bit
Software Base: Ubuntu 18.04.3 LTS
Desktop Environment: XFCE 4.12.3
Media Type: DVD, 2gb or larger USB device
1 Ghz processor
768mb ram
8gb HDD/SD
VGA screen capable of 1024x768 resolution
DVD drive or USB port for the ISO image
1.5 Ghz processor+
1Gb ram+
20Gb HDD/SSD+
VGA, DVI or HDMI screen capable of 1366x768 resolution+
DVD drive or USB port for the ISO image
Ctrl+Alt+T - opens a terminal.
Ctrl+Alt+Del - opens the logout dialogue.
Ctrl+Shift+Esc - opens the Task Manager.
Windows key - opens the Menu.
Windows key+H - opens your home folder.
Windows key+L - locks the screen.
Alt+F2 - opens the Application Finder dialogue box.
Printscreen key - opens the screenshot program.
Accessories Menu
Application Finder
Forums
General Software Support
Graphics Menu
Help Manual
Included Software
Install Updates
Internet Menu
Keyboard Function
Lite Info
Lite System Report
Menus
Multimedia Menu
My Computer Menu
Office Menu
Post Installation
Secure Boot
Social Networks
Support
System Menu
Tour
UEFI
Firefox Web Browser, Thunderbird Email, LibreOffice Writer (Word), LibreOffice Calc (Excel), LibreOffice Impress (Powerpoint), VLC Media Player, Gimp Image Editor, Text Editor, PDF Viewer, CD/DVD Burner, Image Scanner, Image Viewer, Firewall, Backups, Bluetooth Manager, Partition Drives, Resource Usage, Task Manager, Install Drivers, Timeshift, Whisker Menu, Lite Auto Login, Lite Desktop, Lite Info, Lite Network Shares, Lite Software, Lite Sounds, Lite Sources, Lite System Report, Lite Tweaks, Lite Updates Notify, Lite Upgrade, Lite User Manager, Lite Welcome, Lite Widget, Help Manual.
The first thing you should do after a new install is click on Menu, Favorites, Install Updates. Next if you have any wireless, wired, graphics card devices or other hardware devices, click on Menu, Settings, Install Drivers. Please read the information provided very carefully before choosing a suitable driver. It is usually best to choose the recommended driver. You can look through how to connect to the internet by clicking here. More information on drivers can be found here.
Linux Lite recommends that you set your Bios to Legacy. If you already have Windows installed and you wish to dual boot with Linux Lite, we recommend you set your Bios to Legacy mode then reinstall Windows, and then Linux Lite. Linux Lite does not support or advocate the use of Secure Boot.
See the following link for generic instructions on how to disable Secure Boot in Windows (configuration will differ slightly depending on the manufacturer)
(Internet connection required to view video)
Linux Lite can work with UEFI, the solution requires an intermediate knowledge of linux. A tutorial can be found here:
(Internet connection required to view video)
See the following link for generic instructions on how to change the BIOS Mode from UEFI to Legacy (configuration will differ slightly depending on the manufacturer)
(Internet connection required to view video)
On some laptops you may have to enable Numlock as it is disabled by default. You could also try FN + Numlock to use your keys, or FN + one of the F keys across the top of your keyboard. This varies from computer to computer. Some examples follow:
Fn + F11 (Acer, Toshiba, Samsung)
Shift + Num Lock
Fn + Num Lock (Sony, Gateway)
Fn + F11 + Scroll lock
Fn + F8 (HP)
Ctrl + F11
Fn + Shift + Num Lock
Fn + F4 (Dell)
Fn + Nmlk (Lenovo, ASUS)
Linux Lite comes with the Lite System Report tool found under Menu, Settings. This tool helps our Support team more accurately identify any problems you may be having, thus providing you with better service. Click here to learn more about this.
The purpose of the Linux Lite Hardware Database, is to give people an idea of different computer configurations from within a Linux Lite Series. The Linux Lite Hardware Database displays Make and Model, CPU, Graphics, Audio, Network and Storage technical specifications. This provides a snapshot of the kind of computers people are able to use with Linux Lite. No personal or security related information is gathered or displayed. Click on Menu, Settings, Lite Info to share your hardware and help others. Click here to go to the Linux Lite Hardware Database.
If you cannot find the answer to your question in this Manual, please choose from the following:
Click here to get support for Linux Lite on the Linux Lite Forums. Please search the Forums before posting your question, chances are the question you have, has previously been answered. When posting for support, make your title descriptive as possible. Within the post, specify details of the problem, describe the procedure you followed that led to it, steps you tried in order to resolve the issue, and any error messages you may have encountered at various stages in the process. Also include information on your computer - model number, approximate age, CPU, RAM, etc. (The Lite System Report tool is good for that.) The more info you provide the easier it will be for people to evaluate the situation and offer appropriate guidance.
NOTE: Please read the Forum Posting Guidelines before creating your first post.
If you are using a program for example Firefox, the first port of call should always be the developer and or creator/s directly. Most programs have a Help menu somewhere on their program. The Help menu will then have a link to their support area. This is where the experts are and you should receive excellent support. If after trying this you are still getting nowhere, feel free to use one of our above services. Because Linux Lite is based on the popular Ubuntu Operating System, many questions can also be answered by simply entering the issue you are having into your favorite search engine.
Facebook: https://www.facebook.com/linuxliteos
Twitter: https://twitter.com/LinuxLite
Instagram: https://www.instagram.com/linuxliteos/
LinkedIn: http://www.linkedin.com/in/jerrybezencon
Here, we will give you a brief introduction to the Linux Lite Desktop. Let's start the Tour.
The Desktop layout
1 - 9 - Taskbar. This area consists of the Menu, quick launch application icons, workspaces and the system tray.
1 - Menu. This is where all of your applications are accessed. In Linux Lite, Menu items are categorized. See here for more information.
2 - Show Desktop. Clicking on this icon minimizes all currently open windows to the taskbar.
3 - Web Browser. Here is where you can launch the web browser Firefox from to allow you to browse your favorite websites on the Internet.
4 - Home Folder. This is where all your Documents, Downloads, Music, Pictures and Videos will be stored.
5 - XFCE Terminal. Otherwise known as the 'command line'. Here, you can run commands just lke you can in Windows (Command Prompt).
6 - Workspaces. These are like virtual desktops. They allow you to run your applications on 2 or more Desktops, increasing your workspace.
7 - Network Icon (system tray). Configure and connect to wired, wireless and VPN networks here.
8 - Volume Icon (system tray). You can adjust the main volume level, or if you have several applications running sound, you can adjust each level individually.
9 - Date, Time & Calendar (system tray). Here you can view the date and time, and also view the current months calendar by clicking on the time.
10 - Desktop Icons. Quick and easy access to frequently visited places in your computer.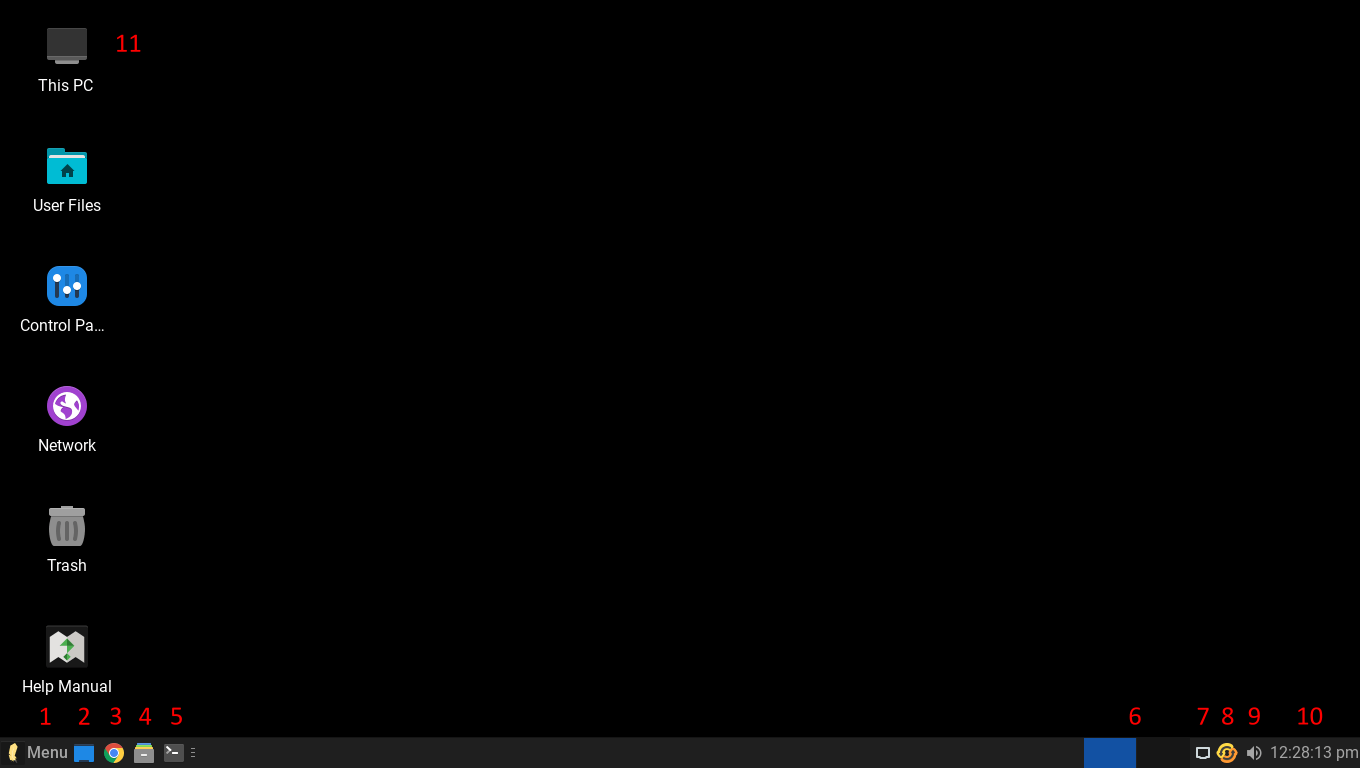 Menu Icons
1 - Search Bar. Here you can start typing the name of an application and the Menu will show that application to you in the list.
2 - All Settings. This is the Settings Manager, similar to the Control Panel in Windows. This is where you can adjust things like your Display resolution and Power settings.
3 - Lock Screen. Clicking on this icon will lock your screen. A handy feature to have when you are away from your computer for a short time and want it secured. Enter your password to unlock your screen when you return.
4 - Switch Users. Just like in Windows, if you have more than one user set up and you are both working on the same computer, here you can switch users without needing to login and logout each time.
5 - Logout. Clicking on this icon will bring up a new dialogue window giving you the option to, Log Out, Restart, Shut Down, Suspend or Hibernate your computer.
6 - Login Name. The name of the currently logged in user.
7 - Help Manual. A shortcut to the Linux Lite Help Manual, an excellent resource for learning how to use and configure Linux Lite.
8 - Install Updates. Click here to install the latest updates that help keep your computer safe and secure. See here for more information.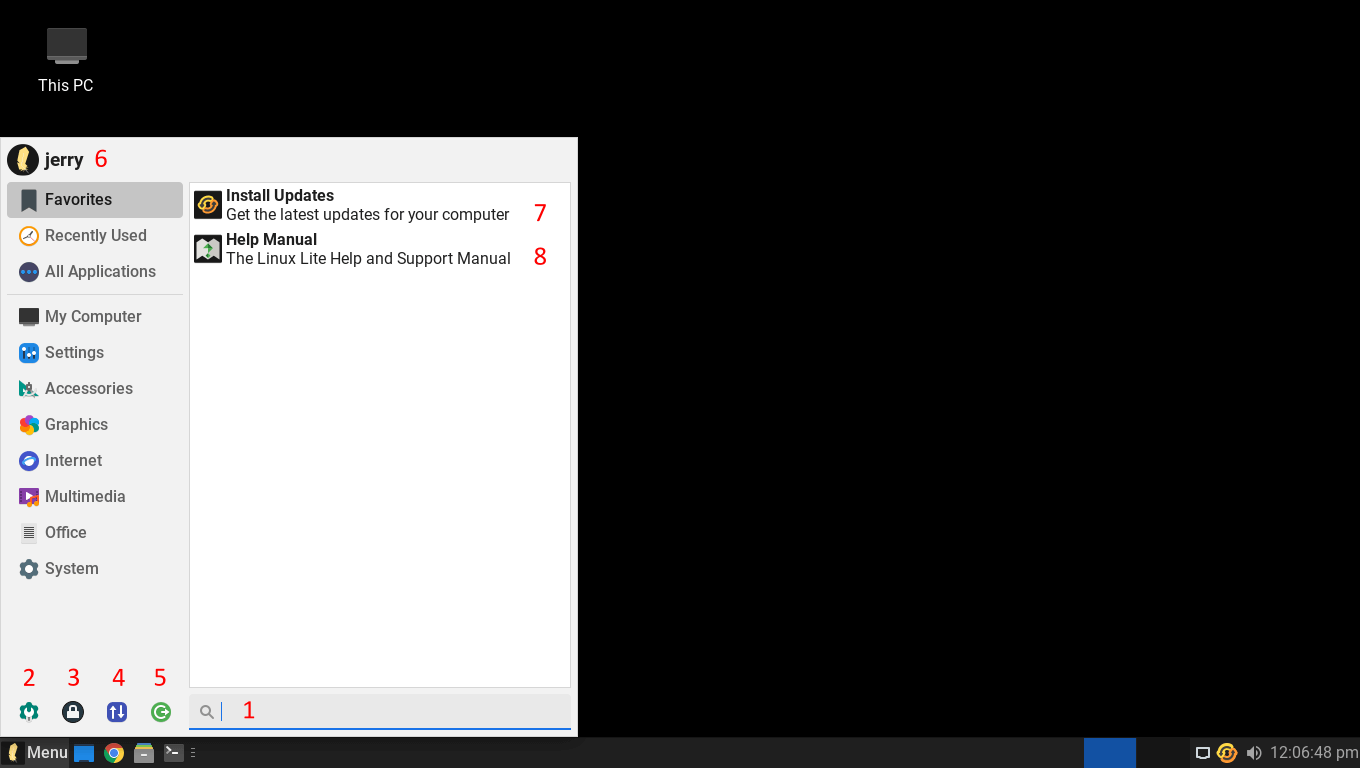 In Linux Lite, when you click on the Menu button, applications are stored in the Menu by category. For example, when you navigate to the Office category, you will see all of the Office like applications.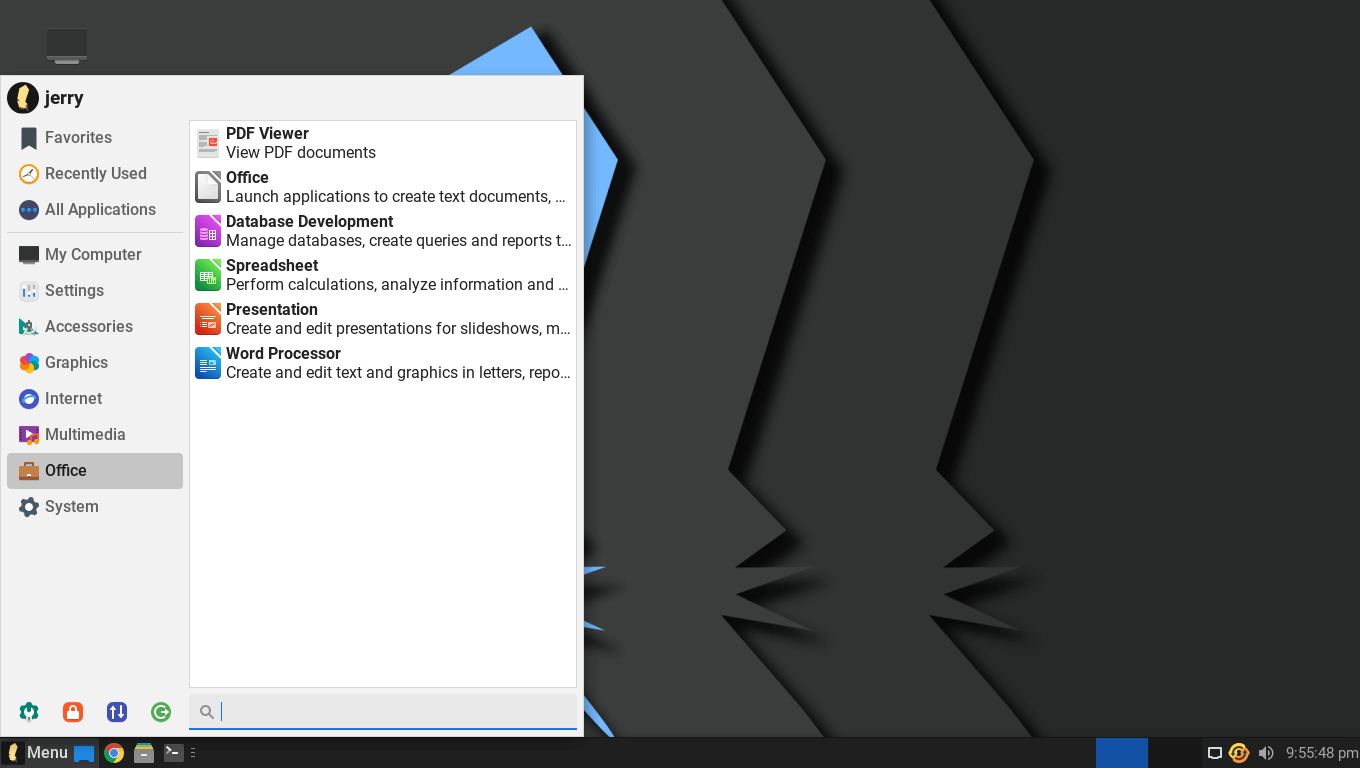 Desktop Settings - Changing the Wallpaper
When you right click on a clear space on the Desktop, you will get a menu of utilities to select from. To change the Wallpaper, select Desktop Settings from the menu.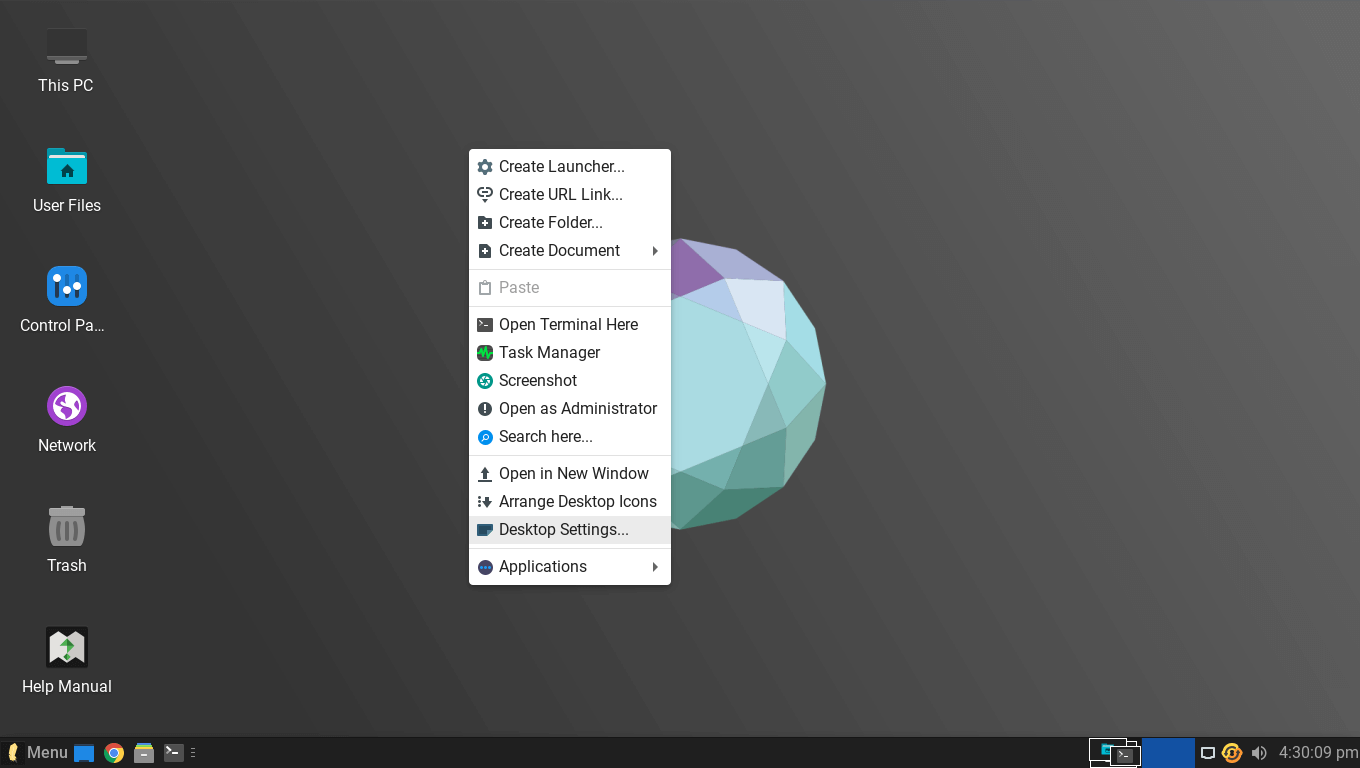 In the window that appears, left click on any of the wallpapers to set a new Desktop wallpaper. More information on this can be found here.
Home Folder
The equivalent of Explorer in Windows, is called the Home folder in Linux Lite. This is where all your files get stored. For example, when you download a file from the Internet, that file gets stored in the Downloads folder. The rest of the folders are set up for your convenience in which you can organize your files according to their category. Your music would go into the Music folder, your photos would go into the Pictures folder, and so on. You can store your files directly into your Home folder if you choose to, but keeping files stored in separate folders sure does keep things tidy and easier to find.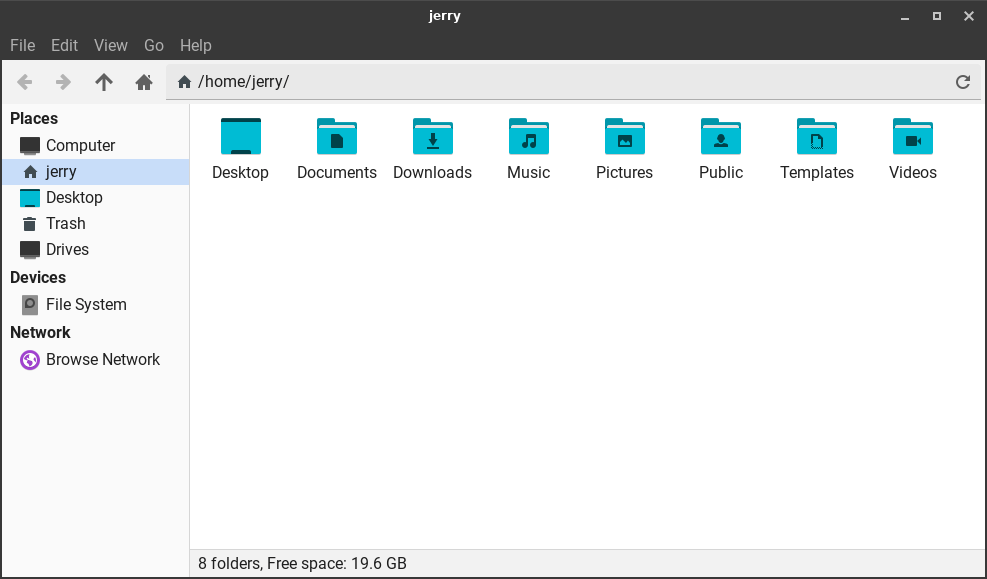 Settings Manager
In Linux Lite, the Settings Manager is like the Control Panel in Windows. This is a central place where you can configure all of your Linux Lite settings. You can access the Settings Manager by going to Menu, Settings, Settings Manager.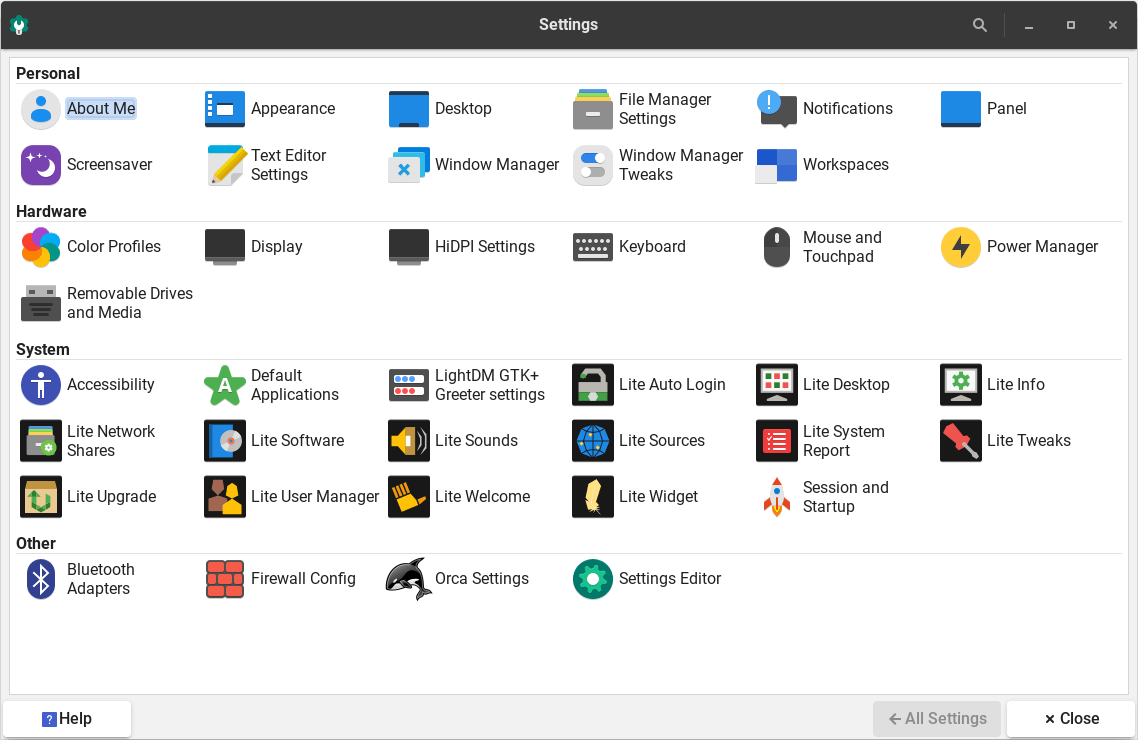 The menu system on Linux Lite has been greatly simplified to make navigation intuitive.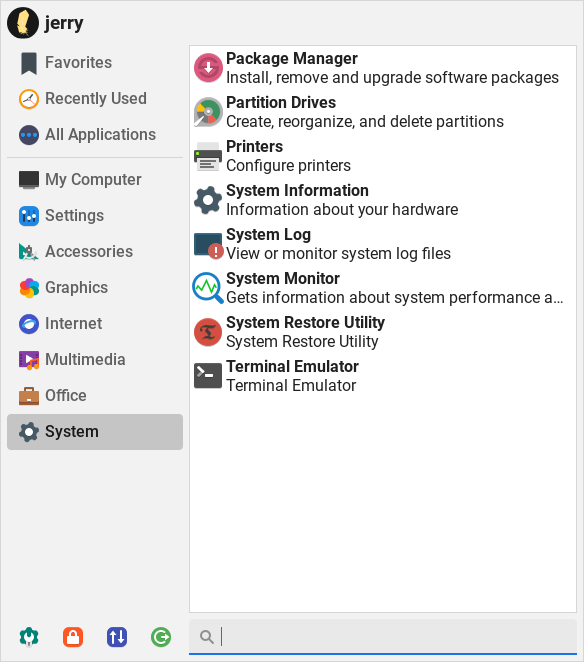 Install/Remove Software - Install and Remove software with Synaptic Package Manager.
NTFS Configuration Tool - Allows you to access ntfs file systems on external drives (enabled by default).
Partition Drives - View and edit your hard drive partitions with GParted program.
Printers - Install and set up printers.
Resource Usage - Shows you how much cpu and memory your computer is using. Also displays system processes.
System Information - View hardware like your cpu, memory, graphics card etc in detailed information.
System Log - View system your logs, helps with troubleshooting.
Task Manager - An overview of currently running computer processes. You can kill unresponsive applications here to.
Timeshift - System restore tool for Linux. Supports scheduled snapshots, multiple backup levels, and exclude filters. (like System Restore in Windows)
Xfce Terminal - A command line utility like the command prompt in Windows.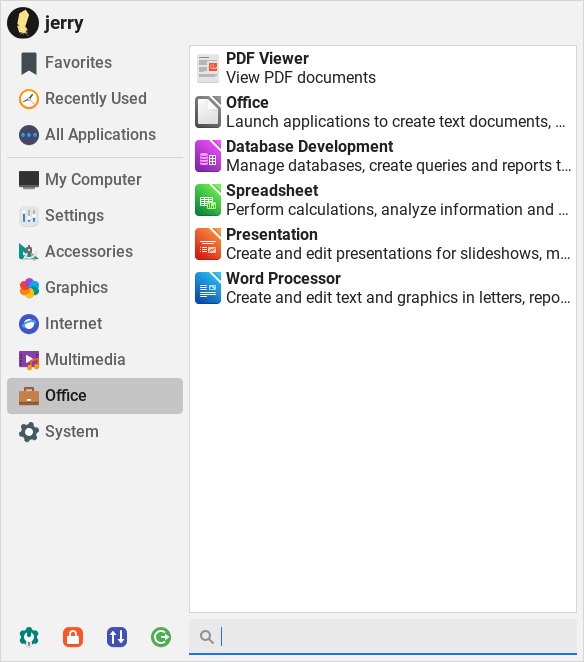 New Document - Opens LibreOffice Writer, an application similar to Microsoft Word.
New Presentation - Opens LibreOffice Impress, an application similar to Microsoft PowerPoint.
New Spreadsheet - Opens LibreOffice Calc, an application similar to Microsoft Excel.
PDF Viewer - View PDF documents with this application.
CD/DVD Burner - A fully featured CD & DVD burning program - XFBurn.
VLC Media Player - A fantastic all around media player, play mp3's, avi's, mkv's etc. Plays all your media files.
Volume Control - Individually set volume levels for each program that is running and configure your sound devices.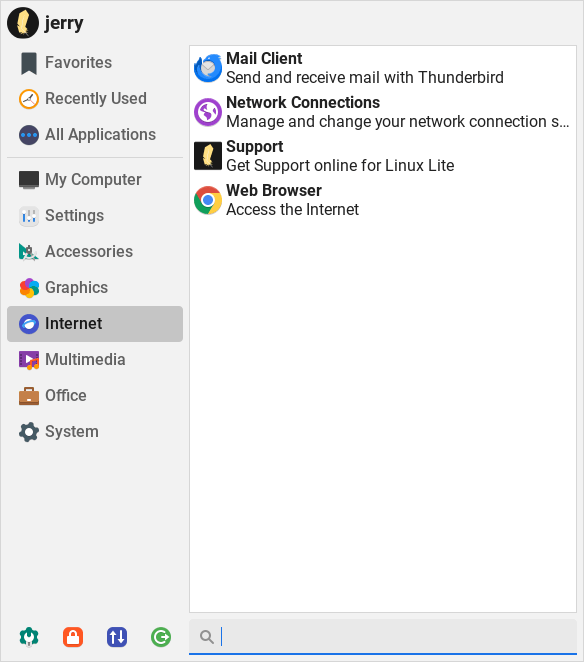 Firefox Web Browser - Browse the internet.
Network Connections - Manage and connect to wired, wireless, 3g and VPN networks.
Support - Get Support at the Linux Lite Forums.
Thunderbird Mail - Email program, send and receive email.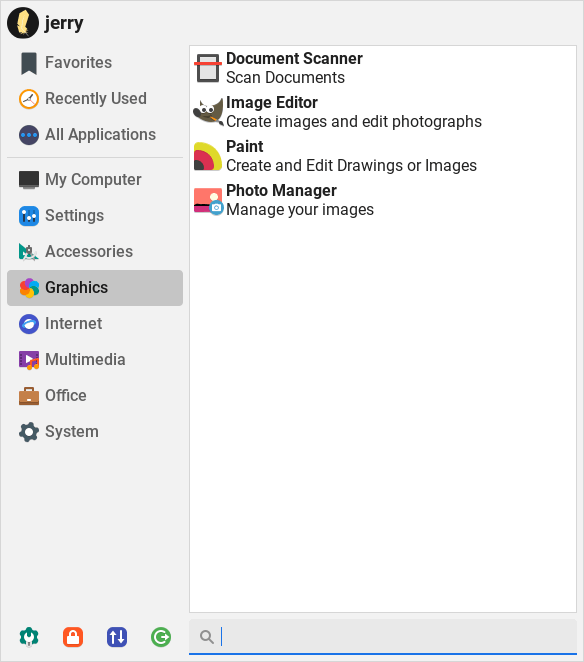 GNU Image Manipulation Program - A powerful, and fully featured image manipulation program with features similar to Photoshop.
Image Viewer - Preview your pictures and apply basic editing changes to them with the Shotwell image viewer.
Scanner - Scan your documents and pictures.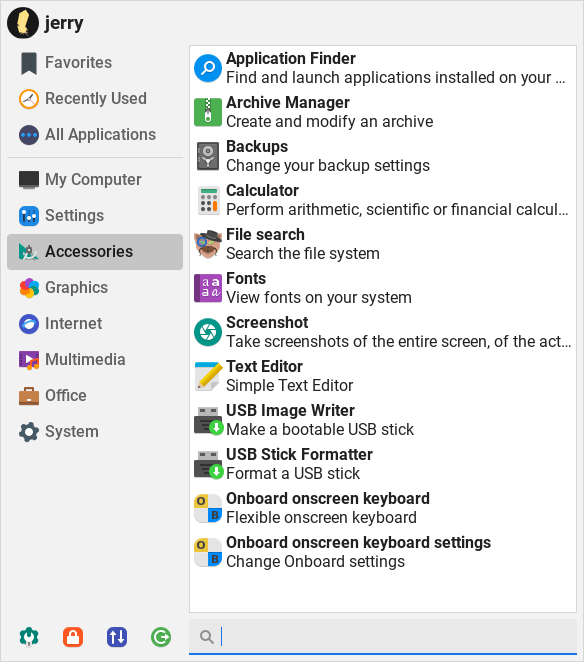 Application Finder - A handy pop up menu to all your programs, by category and in alphabetical order.
Archive Manager - A utility to compress and uncompress zip files etc.
Backups - A simple to use backup solution for your computer.
Calculator - A basic calculator also capable of scientific functions.
File Search - Locate files and folders on your computer.
Fonts - A simple font viewer and installer.
Home Folder - Your home folder.
Screenshot - Take a screenshot of a window, and selected area, or the entire desktop.
Text Editor - A basic text editor, a program to type text into. Can also be used to create and/or edit configuration files.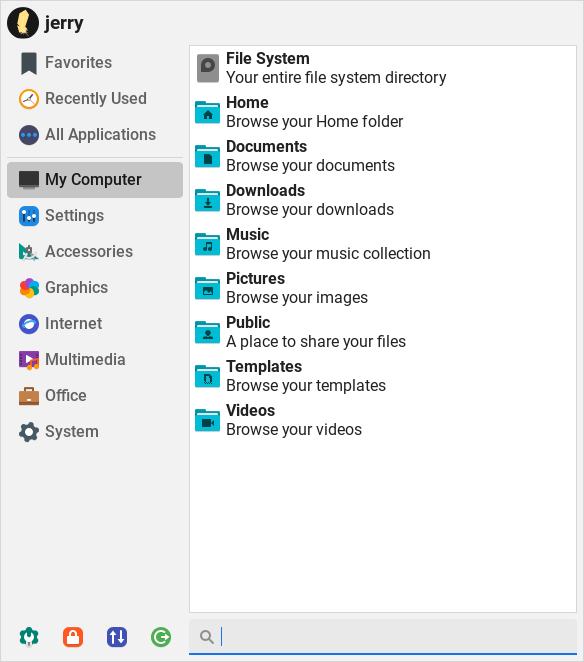 Conveniently placed shortcuts to your file system and all the folders within your home directory.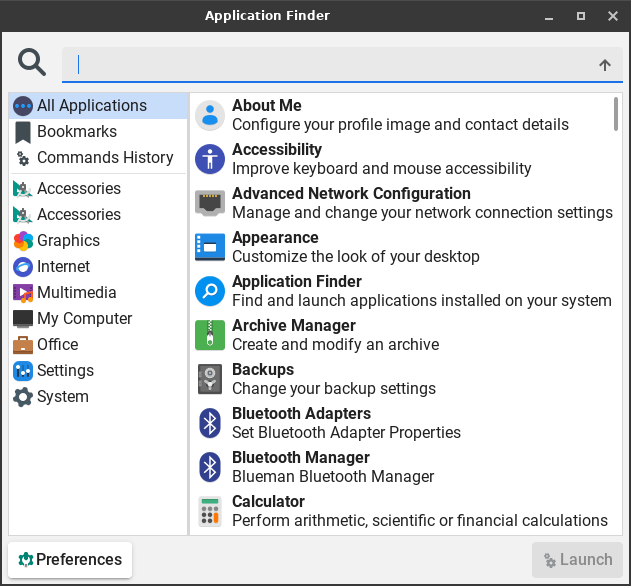 Clicking on this, you can run any program that is installed on the computer by its name.
A link to this Help manual.
Checks for updates for Linux Lite. Click here to learn more about installing updates.